Pastor Eri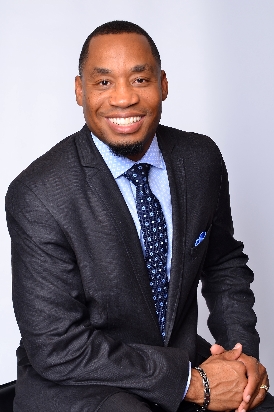 k D. Cummings
Pastor Cummings was born in Miami on November 7, 1970. He is the son of Joann Garvin and the late Rev. Joshua M. Garvin. He accepted the Lord as his personal Savior on Sunday, July 26, 1981. Pastor Cummings was called into the ministry on October 13, 1992 and ordained on November 24, 1996. He has earned a degree from New Orleans Baptist Theological Seminary in Christian Education and a degree in Communications from Gardner-Webb University in Boiling Springs, North Carolina. Currently, Rev. Cummings is a Master of Divinity Candidate in Pastoral Ministries at New Orleans Baptist Theological Seminary.
Pastor Cummings first took his love for Christ to the air waves as the host of gospel radio shows in Gaffney, South Carolina and Fort Lauderdale, Florida. Through various forms of media Pastor. Cummings seeks to inspire and motivate people-at-large into the service of Jesus Christ. Through the Miami Baptist Association, where he served as the Associational Youth Director for four years, Pastor Cummings organized and sponsored various events including gospel concerts, block parties and youth evangelistic events. Pastor Cummings also served as a member of the Inner City Evangelism Team (1998- New Orleans, Louisiana). He is the Founder/President of Smiling Face Production Company, a Christian entertainment company. He is the author of gospel musical stage plays, "Hope N Da 'Hood", "A Message for You", and "Things Have Got to Change." He was also a member of the Florida Gospel Announcers Guild, 1991-1994.
Pastor Cummings was installed as the Senior Pastor of New Life Baptist Church of Carol City on June 10, 2001 and was elected Moderator of the Miami Baptist Association on October 4, 2009.
Pastor Cummings served as a teacher at Northwest Christian Academy for two years, and was named to "Who's Who Among American Teachers" in 2004 and 2005. On November 8, 2003 he was inducted into the 'Gallery of Distinguished Graduates' of Gardner-Webb University in Boiling Springs, North Carolina. Also, on May 21, 2010 he received the same honor from his high school Northwest Christian Academy.
On November 13, 2017, Pastor Cummings was elected the 2018 President of the Florida Baptist Pastors Conference.

Pastor Cummings received a Distinguished Honorary Doctoral of Divinity Degree for his service to the South Florida Community and His Kingdom Work.

Pastor Cummings is married to Dr. Monique Nichol and they are the "grateful" parents of one daughter, Reaiah and one son, Erik II.
Pastor and First Lady Monique

Pastor and Dr. Cummings,

Erik II & Reaiah













Follow Pastor Cummings on Twitter @IAMPASTOREDC
Check out Pastor's Blog at ErikDCummings.com